Welcome to Computer Magic And Software Design!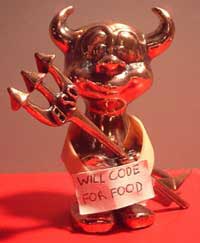 Here at Computer Magic, we specialize in creating customized software that adds value to your business and enhances your bottom line.
If it doesn't save your company time, increase your marketing exposure, enhance your earning potential, or in some way give you a leg up on the competition, then the software shouldn't be written!
We like to take the headache out of technology. For one client, the integration of billing and invoicing information into a custom web portal (designed and implemented here) saved the client hours each billing cycle. How long do you think that will take to pay for itself?
We have also been known to figure out ways to make your existing software applications play nicely together. Can you say - No more entering customer data separately into 4 different programs so that you can bill them, track customer relations, update your web site, and track job progress?
How can we automate your business?


Services:
We offer custom programming in various languages and on various platforms for reasonable rates. We match the appropriate technology to your needs using hot new technologies or working with legacy systems already in place. This helps speed development and keep costs down. Development tool sets are like any type of tool set. Certain tools are better suited for certain project requirements. Our command of many technologies helps us get your job done right and on time.
For more technical information, check out our list of skills here.


Product Listing:
Don't want to wait for development time? Check out our listing of free and for-pay products available for download.
Products

Please contact us for more information.