Computer Magic Products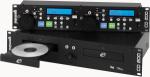 Welcome to our products pages. Feel free to download any of our free items, or purchase our for-pay items via our 2CheckOut shopping cart (Read more about why we use 2CheckOut).

After purchasing products from us, you will be sent a link via e-mail within one business day that will allow you to download the software. If you have selected the option to recieve a copy of the product on CD, you will still recieve the link via e-mail for online downloading, and the CD will be shipped within two business days via USPS media mail.

Products: