QuickScan Icon Scanner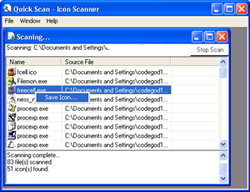 Need help? Find more information here...

Ever need to find the perfect icon for your application? Ever need to extract an icon that is embedded in a .DLL or .EXE file?

This utility can scan whole directories or single files and find all file types that have icons hidden inside (not just .DLL and .EXE files!). Extract icons from these file types:
.EXE
.DLL
.OCX
.CPL
.BMP (that's right, it can turn BMP files into icons!)
.ICO
AND MORE.... I've even seen it pull an icon out of a .DAT file. Any file that contains properly formatted resources and icons are fair game!

Exporting Capabilities
Extract the WHOLE icon from the file with a simple right click of the mouse button. Many icon extractors only get the current device-dependant image, leaving you with just one portion of the whole. With QuickScan, you can extract ALL images contained in a single icon. Most system icons contain 16x16, 32x32, and 48x48 pixel images of varying bits per pixel. Use QuickScan and make sure you get them all!

Responsiveness
Don't you hate working with those other scanners that can literally take minutes to stop searching after you click the stop button, slowing down your computer while you are trying to work?
QuickScan takes advantage of the multi threading capabilities of your computer to conduct the scan so the rest of the program stays responsive even while it is scanning.
Stop scans early at any time instantly!
Save icons already found while the scan is still running!
You can even search more than one location simultaneously!

Scan Speed
It's FAST!
Will other icon scanners outpace QuickScan? It might look that way at first, until you realize most other scanners filter the files they inspect. Only the standard files (.DLL, .EXE, etc.) are checked. With QuickScan, it checks ALL files. If there is an icon in there, it will find it!